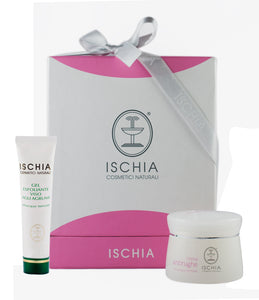 ---
High quality raw materials
Essential packaging to reduce waste
---
order fulfillment within 10 days of receiving the order
standard delivery starting from €6 for Italy. Different shipping costs for other countries
secure payments via bank transfer and credit cards
cash on delivery available only for Italy
guaranteed return in case of damaged or defective products
---
---
DESCRIPTION
---

Young Skin Wrinkle Cream 50ml
Ischia le terme della Bellezza has studied a cosmetic program that accompanies women in the care of facial skin from early youth. The young skin wrinkle cream is dedicated to skin that simply needs basic attention, basic daily gestures, to remain beautiful with the passage of time and to fight the first signs of loss of elasticity in the most effective way. 
Thanks to its active ingredients, such as, tomato seeds, Vitamin E, carrot is essential oil of orange, helps maintain optimal levels of hydration and nourishment, fighting the first wrinkles and the first signs of expression. 
Application method: Apply the product on the face daily.

Citrus Face Exfoliating Gel 30ml
Product designed for delicate and sensitive skin, it exfoliates without attacking the skin. Thanks to the microspheres dispersed in the gel, with a high moisturizing and emollient power, it gently and deeply eliminates dead cells and toxins. Regenerates the skin giving it tone and elasticity, making it immediately fresh, smooth and radiant. Apply the product evenly on the face with a gentle massage, leave it on for a few minutes and remove with warm or cold water once dried.