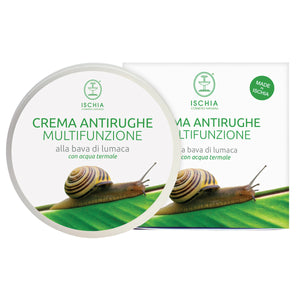 ---
High quality raw materials
Essential packaging to reduce waste
---
order fulfillment within 10 days of receiving the order
standard delivery starting from €6 for Italy. Different shipping costs for other countries
secure payments via bank transfer and credit cards
cash on delivery available only for Italy
guaranteed return in case of damaged or defective products
---
---
DESCRIPTION
---

Nourishes, regenerates and hydrates the skin
Cream that aims to reduce the signs of expression by nourishing and hydrating the skin, thanks to the presence of allantoin, elastin, collagen, glycolic acid, vitamins and essential amino acids , contained in the snail drool. 
Nutritional action: about 80% of the skin is made up of elastin and collagen fibers. The snail slime used in the cream makes the fabrics more elastic and toned. 
Regenerating action: allantoin allows to slow down the skin aging process thanks to the stimulation of the production of elastin and collagen fibers. Exfoliating action: glycolic acid, allows a gentle peeling of the surface layer of the skin, proving useful for contrasting skin dyschromias (skin spots). 
Moisturizing action: thanks to the proteins present, the snail slime helps tissue oxygenation and hydration.
Antioxidant action: Vitamin C and Vitamin E allow to reduce inflammation and counteract the action of free radicals.
Apply to well-cleansed face, preferably twice a day, morning and evening. For a healing effect or to combat skin discolouration (spots) it is recommended to apply the product even three times a day.